About Heather M. Lee, Esq.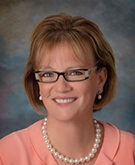 Heather is both an attorney and a licensed title examiner. Heather is responsible for managing the Examining Division and examines many of the cases herself. Heather is a graduate of Notre Dame (1992) and obtained her law degree from the Suffolk University School of Law in 1996. Heather is also responsible for examining all commercial transactions. Heather has been working full-time in the title insurance field for 12 years.
Experience:
Title Partners, LLC, Corporate Counsel (1999-Present), Plymouth, Michigan
Acting corporate counsel and lead title examiner for firm.  Duties include all matters related to law and/or title insurance in relation to residential or commercial transactions within the company.
Trott & Trott, Attorneys at Law, Staff Attorney (1999), Bingham Farms, Michigan
Foreclosure and REO Attorney
Attorney's Title Agency, LLC, Staff Attorney (1998), Troy, Michigan
Founding Attorney and Licensed Title Examiner
Lee & Lee Attorney's and Counselors at Law, Owner/Attorney (1997-Present), Northville, Michigan
Corporate Counsel
Educational Background:
Juris Doctor, Cum Laude, Suffolk University Law School, Boston, Massachusetts
Masters Degree, Magna Cum Laude, John Paul II Institute, Washington, DC
Bachelor of Arts in Classics, Cum Laude, University of Notre Dame, South Bend, Indiana
College Prep, Phillips Academy, Andover, Massachusetts
Additional Accomplishments:
Many Successful Short Sale Transactions
Real Estate Education, Professionals Class
Attorney and Member, Board of Overseers, Commonwealth of Massachusetts
Attorney, U.S. District Court, Eastern District Court of Michigan
Legal Intern for the Chief Justice of the Massachusetts Land Court